I've been trying to connect online thru the speedstream router management interface but of futile result. It always says:
"The local connection is still busy, please wait a few seconds before attempting to connect."
So this is the prize of lower line and internet fee(5h plus per month at 512mbps). I just finished my breakfast and I just have this urge to write. I arrived around 7:30am from work. It was raining heavily when I left the office early this morning. The rain made me feel awake and as usual I cannot sleep.
So, what's the latest buzz in town? The Ces Drilon kidnapping case is over. Manny Villar's rumored pre-campaign ad is still aired on TVs nationwide and Ces Drilon really looks ugly without her make up on (have you noticed that?). Hehehe!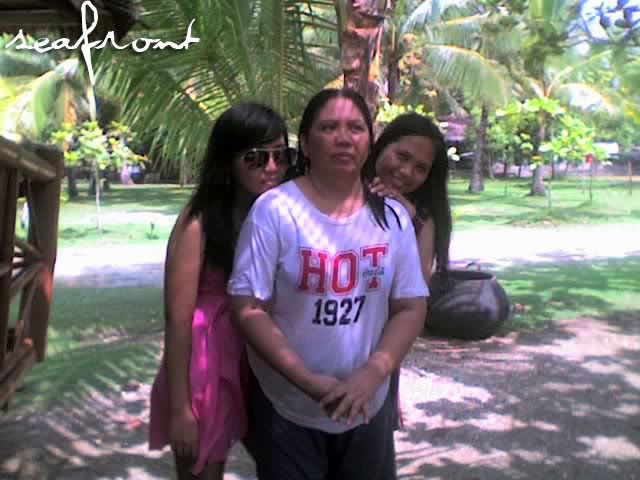 with my sis and mama at Seafront, Liloan
My stomach is full and I just want to step aside, and look back at the stuffs that I've done these past few weeks. Uhmmn, let's start from the last week of April. Whew! That was when I went to Badian Island with deathgod, pervertsniper, dondon, and jc_hitomi. And then, on the first week of May, we went to Tubod Flowing Waters in Minglanilla for our team outing. Mid week of May was our forum outing at Franziska's Beach Resort in Liloan. And then, a week after that we had our family outing at Seafront Beach Resort also in Liloan wherein we celebrated Inday Tin-tin's passing of the CPA board exam. Last week of May was Maybel's birthday. We went to Davinci's Pizza in Jones along with deathgod and pervertsniper, and then, we went to videoke at The Beat's Family KTV bar, and then went to disco near the place(wherein Maybel met her current bf).  Hahahahaha!
with at ems and my god daughter…
Last first week of June was Ate Em's Wedding at Metro Park Hotel in Lahug. And then after that, I went to Bantayan Island with deathgod and his officemates. It serves as deathgod's last outing with his team mates because he received a new job offer from a software company in Bohol.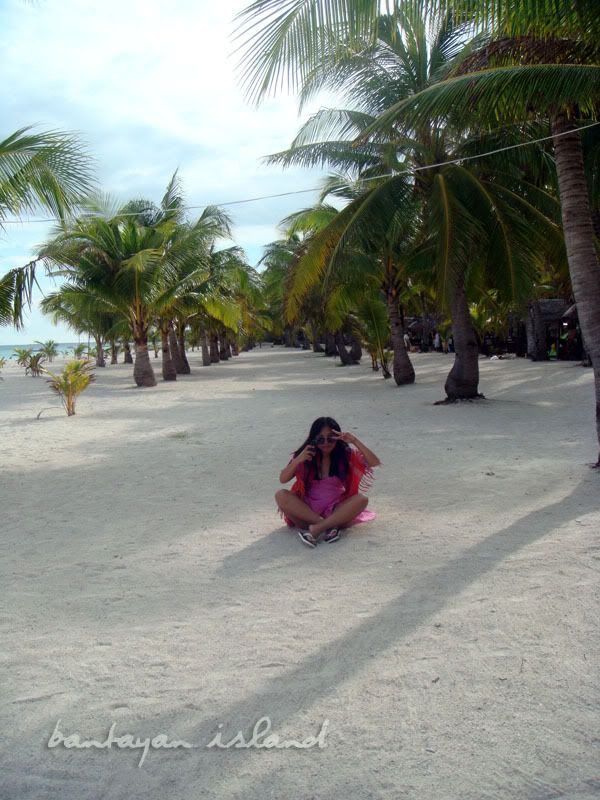 Sugarbeach, Bantayan Island
Today is his first day of work as a project implementor at Wizzard Technologies. He texted me yesterday that he's a little bit nervous. Hehehe. I'm quite happy that he has now a better job. I mean he's not satisfied with his job before. I just texted him a while ago and gave him words of encouragement. Yeah! We're good friends, but some people just can't help themselves and still tease us that we're still lovers. Well, we are happy of what we are now. We are good as friends. We don't click as lovers. But then, no one knows what the future holds for us. He actually asked me a couple of times what will my answer be if he would want me back in the near future. My answer is I will decide when that time comes. Lolers!
with chubby and soulmate at Mango Square after videoke
Anyways, I had so much fun last Sunday night when I went to a videoke bar in Mango Square with my bloody officemates. We had so much fun singing our hearts out and dancing 'til our feet hurt. Hehehe! I feel a little bit sleepy now. It's still raining outside and my eyelids are already heavy. 'Till next time mortals. Avrio!