Tag Archives:
immortality forum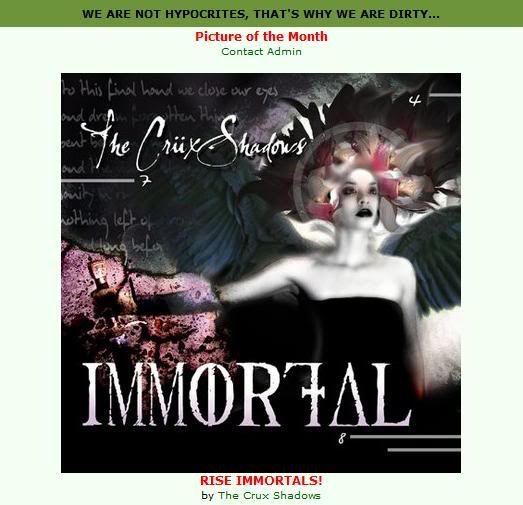 21st of April 2006-21st of April 2009.  It's been three years that we've been tossing each others nonsense ramblings inside our little hive in cyberspace.  Three years of knowing each others clumsiness and silliness.  Three years of sharing each others secrets and painful dramas in life.  It's been a great pleasure knowing that somewhere in this very chaotic age of multi-tasking and modern brouhaha, there is still a place wherein we can vent our frustrations in life without the fear of being rejected and humiliated.
To all cool headed immortals who are reading this post, Happy 3rd Anniversary!  Jia You!
Whew! That's quite fast! Immortality Forum will be in its 2nd year of floating in the psychological limbo we called cyberspace. Hehehe! It continues to float amidst the chaotic world of cyber manics and perversion to cure boredom and proliferate the spirit we called camaraderie. Immortality Forum exists because of the friendships privately nurtured under the canopy and mercy of free hosting site Forumer.com.
Well, I found friends in the forum and I became the witness of few trivial yet life changing twists that happened to some of the bloody members. This may sound exaggerated but immortality forum ain't your run of the mill board site. We only patronize people who are open-minded yet cool enough in dealing with sensitive or taboo stuffs, and witty enough to punch in jokes that would make everyone's day complete. The site may be is too small and doesn't have its own domain, but we just want it that way. Well, mind you we don't have our own domain but every time you search for "immortality forum" in google you will see the site ranked at number one in google search results. Hehehehe! Ain't that amazing?
Anyway, since it's our second anniversary all active members decided to have a summer outing this 17th and 18th of May at Villa Teresita, Talisay. That would be two days and one night. Tatskie promised to donate a whole lechon and also took responsibility in preparing prizes for the games. Titah Binky is the one who is in charge for reservation. Khalai is the one who volunteered to cook pancit and the rest of the members will contribute three hundred bucks for the rent of the cottage, foods, and other miscellaneous. I'm kind of excited because it's been a year and a half since we have a meet up. The last one was way back 2006 of December at Rendezvous in Marigondon, Lapu-lapu City.
And also in order for us to have something to look forward to this 17th and 18th I started a guessing contest in the Trivias forum wherein there'll be a prize token that will be given for the person who can guess the right answer. This token will be given during the outing. For more details about the outing just check the Annunciation forum. HAIL ALL IMMORTALS!!
N.B. Whew! Can't wait also for 27th. Badian Island here I come! Hehehe.
EOD